Whether you are new to dropshipping or you've been at it for some time, the search for the best products to sell remains that toughest and also the most elusive thing for you to do.
But the catch is that even with the difficulties, you cannot skip this process if you are going to earn something from dropshipping. Essentially, you have to keep going, and if the going gets tough, then that will be time for you toughen up.
So, how do you keep going? How do you overcome some of the biggest challenges associated with the online retail business, especially when you are new to the whole ecommerce thing?
After all, the success of your dropshipping/ ecommerce business is largely dependent on your ability to find and fill up your store's products inventory with the highest-quality merchandise, merchandise that you will be able to sell at the most affordable prices to your customers.
How then do you do it?
Well, the easiest and the top-recommended strategy you may want to embrace would be: one, leveraging the best strategies for dropshipping to ensure the success of your business, two investing in the best tools to use in your search for the best products to sell from your dropshipping store.
The good thing is that once you have identified the best dropshipping business model and the right tools to sell, you will be on your way to limitless profits.
In this article, we'll introduce you to some of the best dropshipping product research tools. But before we get there, let's review the dropshipping business model.
Best Dropshipping Product Research Tools
1. Niche Scraper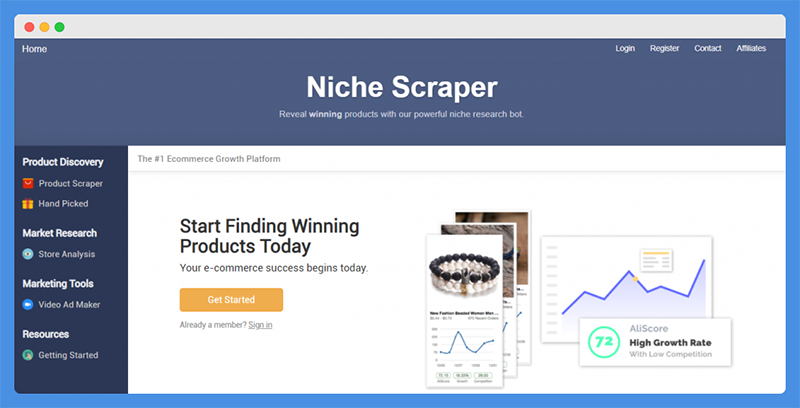 Niche Scraper is one of the leading product research tools for dropshippers. Successful dropshippers use the tool to find winning products and profitable niches on Amazon, eBay, and Shopify.
The tool has gathered positive reviews from members who are getting results. Some of the users believe the product is amazing.
Niche Scraper takes the guesswork out of your product research. You can easily find best-selling products and drive business growth.
Features
Niche Scraper uses a powerful dropshipping, product, and niche research bot to find winning products. With this tool, you don't have to face the hassles of searching for millions of products on Shopify and AliExpress manually.
The product scraper analyzes thousands of AliExpress and Shopify products daily to reveal products with the highest dropshipping potential.
For AliExpress products, marketers can sort products based on
Product Category
AliScore
Keyword
Recent orders
Price
Competition Score
Growth Rate, etc.
For Shopify products, dropshippers can sort products based on
Relevance and Store Popularity
Product Category
The time that product was added
Maximum product price
Business type (all stores and verified dropshipping)
Niche Scraper also offers a list of winning products that are manually added to the platform. These products are handpicked daily by experts based on Facebook ad examples, suppliers, and more. If you are just starting your business, and you need to hit the ground running, handpicked products are the best option.
Beyond product research, Niche Scrapper provides competitive market research data. With the Store Analysis feature, marketers can spy on other top stores to reveal data such as
Best selling items
Sales estimate
Traffic data, and more
The software enables marketers to understand the market and gain a competitive edge.
Niche Scraper Pricing
Niche Scrapper has two pricing categories.
Free version – $0 per month. You will get a limited number of product research.
Pro – $39 per month. Members will gain unlimited access to product research features and training videos.
Pricing for this software may change over time. Please visit Niche Scraper's website for more information.
Advantages of Niche Scraper
The platform is easy to use
Niche Scraper offers a free plan
They offer a one-click copy feature for Shopify merchants
The tool provides comprehensive learning resources to help you get started
You can find profitable products using the product scraper or handpicked products
Disadvantages of Niche Scraper
The membership plan is on the high side
The free plan has limited products
2. Product Mafia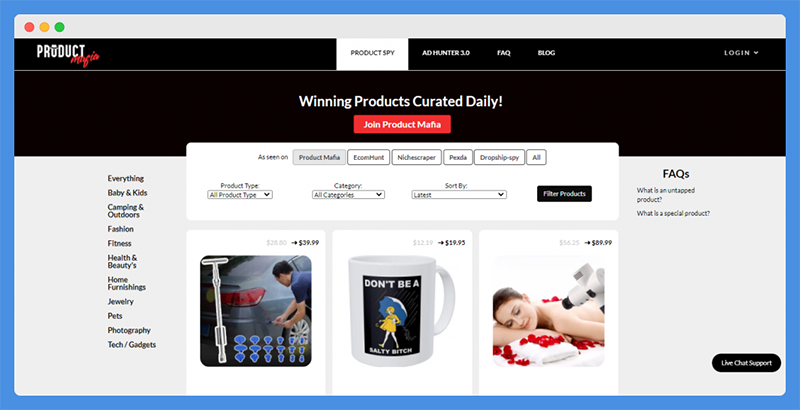 Another solid product research dropshipping tool is Product Mafia.
Product Mafia offers an intuitive and powerful online product research service for dropshippers.
The platform has more than 173 gold members and over 98 platinum members. Product Mafia has helped merchants find over 1387 winning products.
The product research tool helps dropshippers access winning products with detailed analytics. Product Mafia has an ad hunter that helps marketers find and create winning ads for their business.
Features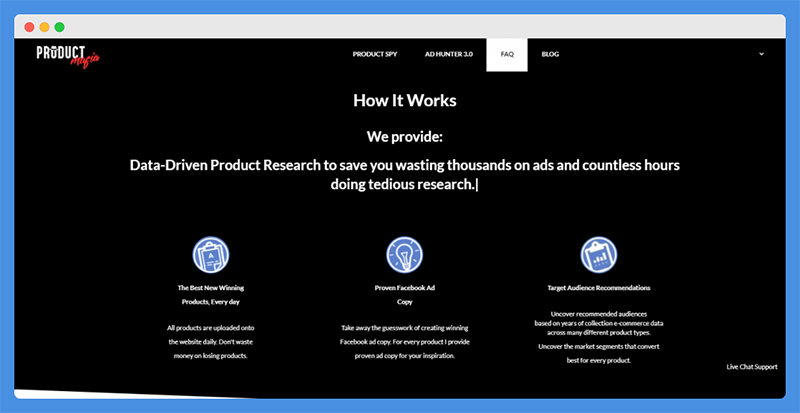 Product Mafia manually adds winning products to its platform. The tool makes it easy for dropshippers to find profitable products and add them to their store with a single click.
Product Mafia supports seamless integration with WooCommerce and Shopify. From the Product Mafia website, you can find reliable suppliers for your products.
The platform provides reliable data for each product including
Profits (CPM, profit margins, net profits)
Analytics (sources, orders, votes, reviews, etc.)
Engagements
Recommended Influencers
Copyright Info
Unlike Niche Scraper that offers AI-powered niche finders, Product Mafia offers manually picked products only. Albeit, they provide adequate data to help dropshippers make data-driven decisions.
Product Mafia Pricing
Product Mafia offers two service levels.
Free – $0 per month (limited access to features)
Pro – $49 per month. You will enjoy full access to all products and data.
Pricing for Product Mafia may change. Please visit their website for more information.
Advantages of Product Mafia 
Intuitive user-interface
The tool provides detailed product research analytics
Product Mafia allows one-click import of products into Shopify and WooCommerce stores
They provide live-chat support via Facebook
Disadvantages of Product Mafia 
The free plan has minimal features
3. Zik Analytics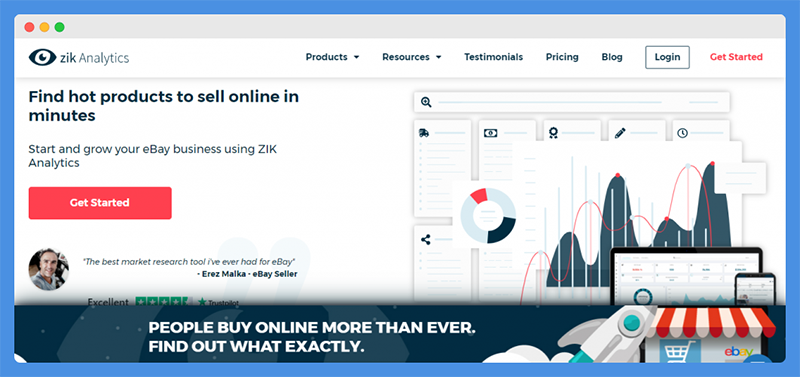 Zik Analytics is a product and market research tool for marketers and dropshippers. The tool helps sellers find the most profitable products to sell on eBay and AliExpress.
Zik Analytics allows dropshippers to source over one million winning products from wholesale suppliers. Unlike Product Mafia, Zik Analytics is mainly for eBay merchants and dropshippers.
This tool's major downside is that it doesn't offer a free plan, and the paid plans are expensive.
Features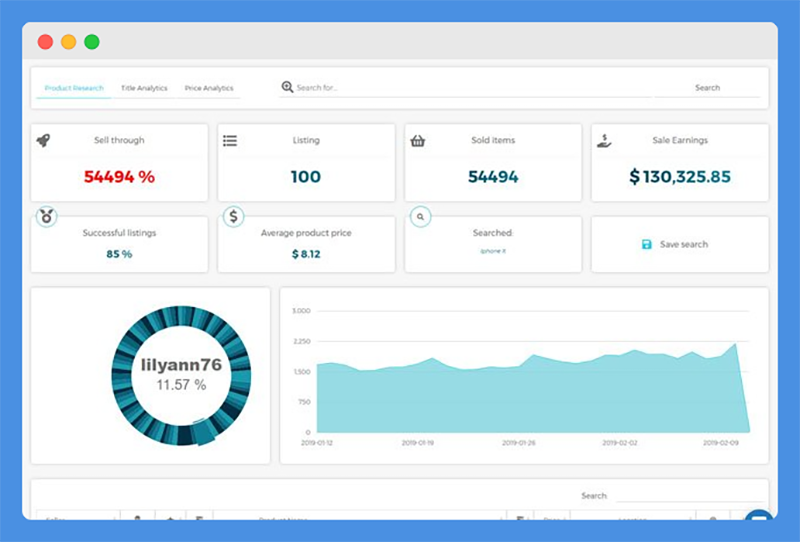 Zik Analytics provides product and sales data for eBay and AliExpress products. With this software, eBay merchants and dropshippers can
Find winning products to sell on eBay
Discover the best keywords and item categories
View product sales data and other key analytics
Rank products higher than their competitors
Also, you can access key analytics such as
Successful listing
Sell-through rate
Sold items
Sale earnings
Average product price
Successful listings
Zik Analytics lets dropshippers get sales data for AliExpress products. Marketers can easily find products that are in high demand with high sales volume. The tool provides insights into the top-selling countries for that product, top suppliers, and more.
Also, this tool allows eBay merchants to
Gather excellent product ideas from reliable suppliers
Analyze seller metrics
Grow their dropshipping business
Zik Analytics Pricing
Zik Analytics has three pricing categories
Starter- $29 per month
Standard- $59 per month
Enterprise- $89 per month
After the time of writing, Zik Analytics offered a 50% discount on the pricing plans.
Please note that the pricing plans may change over time. Visit Zik Analytics's pricing page for updated information.
Advantages of Zik Analytics
The tool is easy to use
Zik Analytics offers detailed product research analytics
They provide live chat support
Customer service responds on time
Disadvantages of Zik Analytics
Paid plans are on the high side
4. AutoDS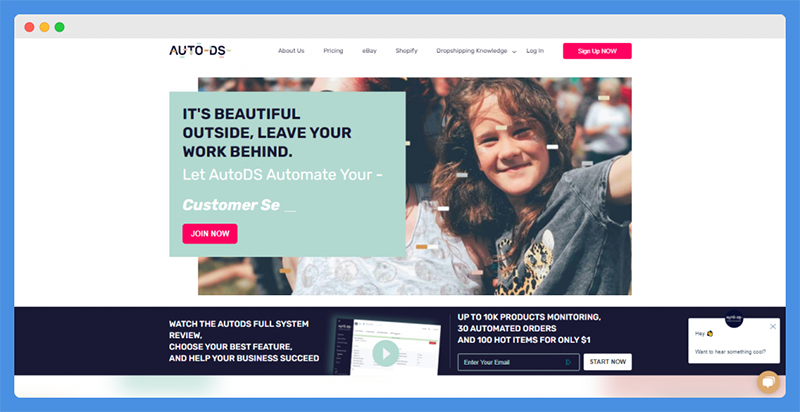 AutoDS is a complete dropshipping platform built by Lior Pozin in 2018. The platform makes it easy for eBay and Shopify dropshippers to research and market the best-selling products.
The AutoDS Finder allows you to get up to 1000 profitable products at the click of a button. The platform also saves you from the hassles of manually researching products.
Features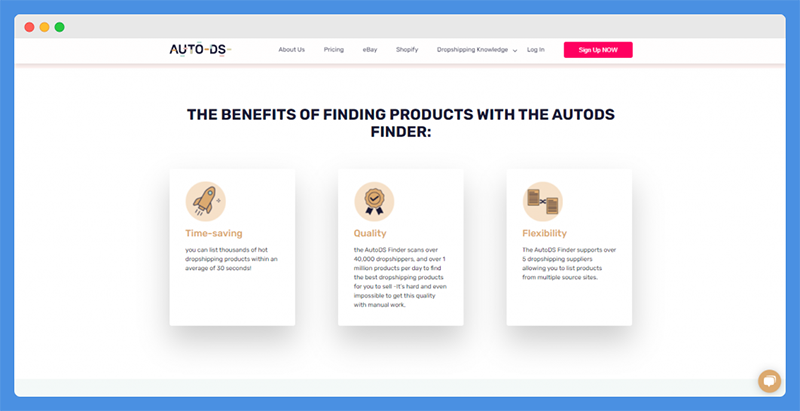 AutoDS finder scans over 40,000 sellers daily and collects the winning products to their database.
AutoDS Finder scans products and matches them to the suppliers' site. Marketers can find profitable products on multiple marketplaces including
AliExpress
Amazon.com
Amazon.co.uk
Amazon.FR
Amazon.de
Amazon.IT
HomeDepot
Walmart
The tool evaluates winning products based on the amounts of sales in the previous months. You can get products sold at least three, five, and eight times in the last month.
Merchants can find profitable products using the coupon finder category. This feature offers insights into products that have a high potential for coupons and an increase in profit.
AutoDS Pricing
AutoDS's pricing includes different plans for eBay and Shopify. The plans for eBay include: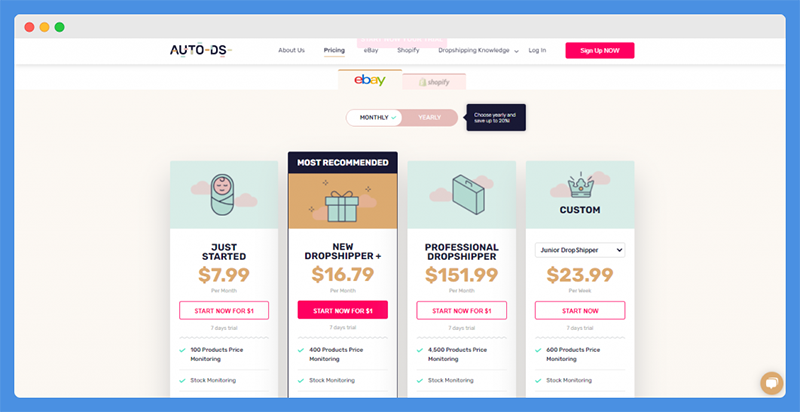 Just Started – $7.99 per month
New Dropshipper – $16.79 per month
Professional Dropshipper – $151.99 per month
Custom – $23.99 per week
Trial requires you to pay $1 for 7 days.
The Shopify plans start from a free plan to $197/month. You can try any plan for free.
Advantages of AutoDS
Customer service is top-notch
They have a comprehensive knowledge base for merchants and dropshippers
The Product Finder collects data from multiple marketplaces
AutoDS provides support for manual dropshippers
Disadvantages of AutoDS
No free plans and no free trial
You have to access the product research tool
5. Ecomhunt 
Ecomhunt is another powerful product research tool. Like Product Mafia, the software manually curates the best selling products and adds them to their platform.
The beautiful thing about the platform is that it provides the most recent data about winning products and their products are handpicked by seasoned eCommerce experts.
Features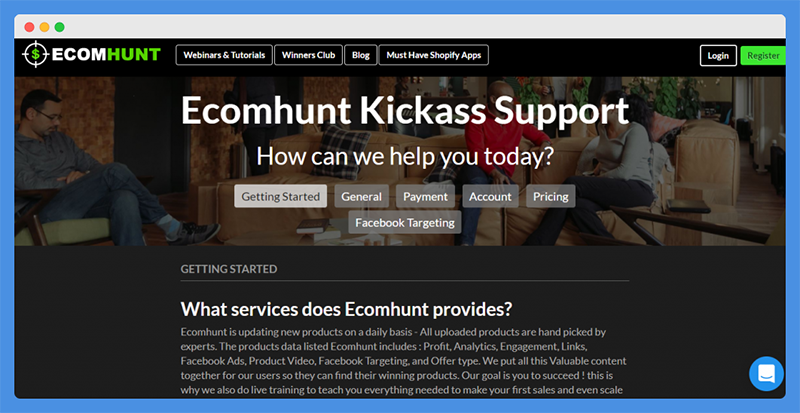 Ecomhunt helps dropshippers drive business success by providing access to winning products. The platform updates new products daily.
Plus, products that are uploaded on the platforms are curated by experts. The products added on the platform depend on the product quality in the eCom market.
Ecomhunt places a huge emphasis on product value rather than quantity and the aim is to ensure that merchants derive the best value from each product on the platform. Merchants can access valuable data about products including product data such as
Selling price and product costs
Profit margin
Engagement
Analytics
Links
Product Video
Facebook Ads
Facebook Targeting
Offer type
Products listed on the Ecomhunt platform can be used in eCommerce markets, including Amazon, eBay, etc. Merchants can also use them in their WooCommerce or Shopify store.
Beyond product research, Ecomhunt provides live training to teach merchants everything they need to make their first sale and even scale to more significant numbers.
Ecomhunt Pricing
Ecomhunt pricing is simple. The free plan has limited features, while the paid one goes for $29 monthly.
At the time of this writing, Ecomhint offered a 30 percent discount on the paid plan, making it $20 per month for early adopters.
Advantages of Ecomhunt
The product research tool provides detailed product data
Ecomhunt offers a free plan
They provide multiple support options including live chat support
The tool has a user-friendly interface
Disadvantages of Ecomhunt
The free plan has limited features
New products are delayed for three days before merchants can access it
6. Sell the Trend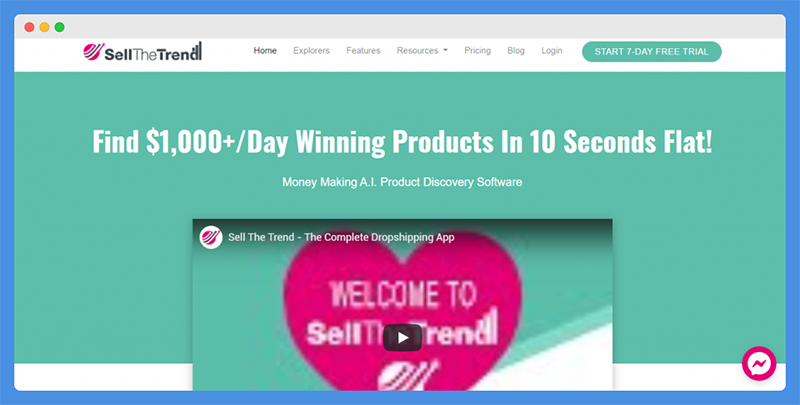 Sell the Trend is an AI-powered product research tool for dropshippers. The tool helps you find profitable products that will ramp up sales quickly.
Sell the Trend offers extensive product research tools than other competitors in our list. So whether you are using AliExpress or Shopify, they've got you covered. Those dropshipping on Amazon can also use the tool.
Features
Some of their product research tools include
The Nexus Research Machine
Dropship Product Explorer
Shopify Store Explorer
AliExpress Explorer
Retail trend Explorer, etc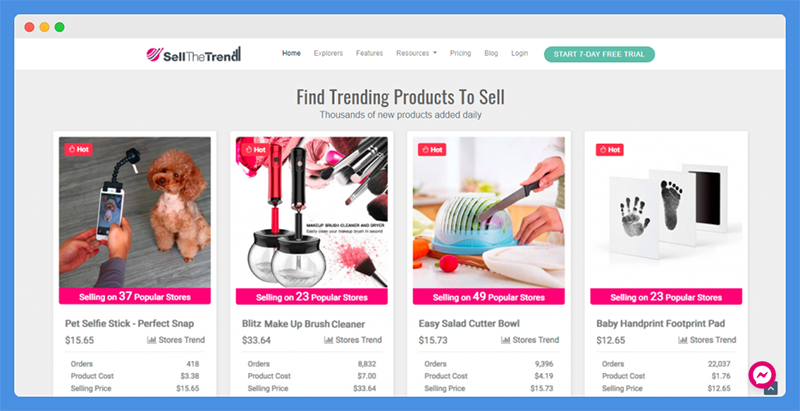 Let's take a look at product research tools you will find on this platform.
The Nexus Research Machine
The tool uses proprietary dropshipping AI-powered algorithms to enable dropshippers to view product trends across popular online marketplaces and eCommerce stores globally.
With this tool, you don't just have to sit around and guess winning products. The tool provides data about the best products that should sell quickly.
Dropship Product Explorer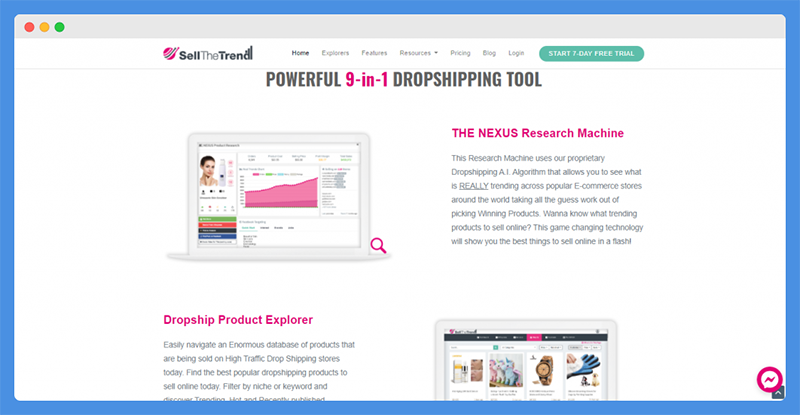 With this software, dropshippers can find the best dropshipping items to sell online. You can quickly navigate an extensive database of products that are being sold on reputable dropshipping stores.
The tool lets you filter products based on keywords and niche and you can find recently published, trending, and hot products to add to your store.
Shopify Store Explorer
Sell for Trends puts thousands of successful dropshipping stores at your fingertips, so you don't miss out on winning products. The tool provides data about the best product trends and which products are currently selling.
The tool ranks Shopify stores by how successful they are at selecting trending and hot selling products. By viewing sales and market activities, you can choose and sell profitable products.
Store Intelligence
With the Store Intelligence tool, managers can assess the competition and gain data-driven insights. The software allows managers to select from a broad range of top dropshipping stores tracked by Sell the Trend and generate a detailed report.
Marketers can also enter a custom shop URL to get a report about that store like the latest added or top-selling products. With this data, you can see products to sell and generate profits.
Retail Trend Explorer
This tool lets sellers discover new, hot, trending, and profitable AliExpress products. Marketers can view real sales trends and locate products that are skyrocketing in sales. Plus, companies can take advantage of these products before their competitors.
Even if you don't find any product in their system – no problem. You can simply add any AliExpress product link and get real trends for that product
With their Amazon Trend Explorer, you can also find trending products and test them for your Shopify dropshipping store.
Other impressive features of this tool include
One-click import of products
One-click order fulfillment
Facebook Audience Builder
Video Ads Creator
Engagement Calculator
Sell The Trend Pricing
Sell the Trend has a simple pricing plan.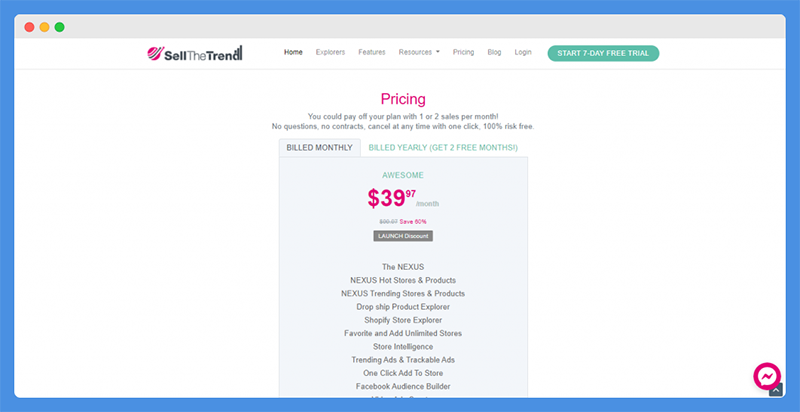 The software's original price is $99.97. Albeit, at the time of this writing, Sell the Trend offered a 60 percent discount, thereby bringing the cost to $39.97 per month.
With a 67 percent discount, the annual payment will amount to $32.97 per month.
Kindly note the product pricing may change. Visit the software's pricing page for more information.
Advantages of Sell The Trend
The software is feature-rich
Sell the Trend uses AI-powered product research tools to deliver accurate data
Excellent customer service and support
They provide extensive resource base and learning materials for dropshippers
Disadvantages of Sell The Trend
Sell the Trend does not offer a free plan
Product pricing is expensive
7. Thieve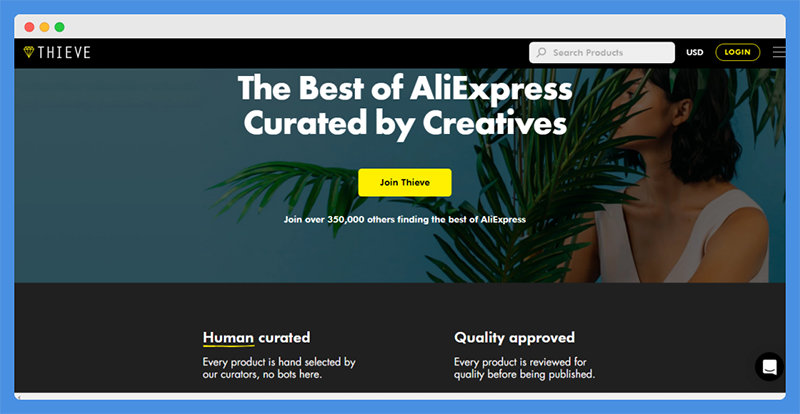 Thieve is a product research tool for AliExpress Dropshippers. The software is used by over 350,000 dropshippers worldwide.
Thieve provides a curated list of winning products that you can buy directly from AliExpress.
Unlike Sell the Trend, products are not selected by bots or AI-powered algorithms. Items are handpicked by experts and reviewed for quality before publishing.
Features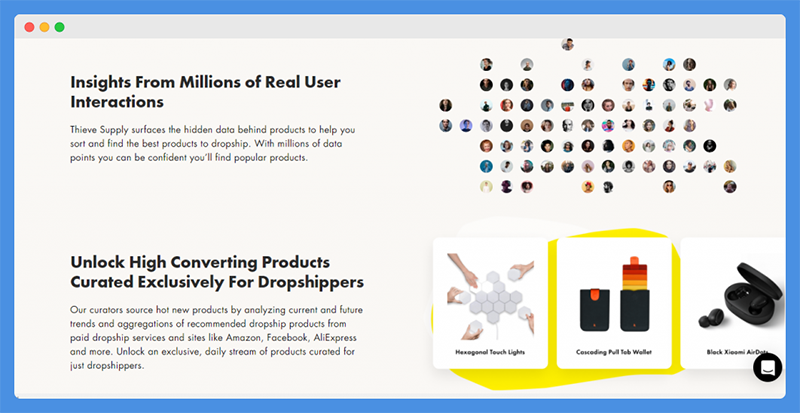 Thieve allows you to skip the search and move straight to buying quality products. The products on the platform are curated and handpicked by a team of incredible creatives around the world including
Bloggers
Photographers
Designers and more
Thieve Supply uncovers data behind AiExpress products to help merchants sort and find the right products to dropship. The tool reveals insights from tons of real-user interactions. With millions of data points and analytics, you'd be confident of finding popular and high-converting products.
Thieve curators source for hot, new, and trending products by analyzing current and future trends. They analyze tons of recommended dropship items from paid dropship services. Also, they aggregate data from sites like AliExpress, Amazon, Facebook, etc.
With Thieve, managers can unlock daily and exclusive streams of products. Marketers can view popular products and the products that are converting at the moment.
Thrive Supply shows you the number of likes and conversion scores based on millions of product sales and click-throughs. Promoting a proven product and targeting the right audience will deliver results. Thieve Supply's advanced filters enable sellers to find the right products based on
Popularity
Conversion
Price range and sales
Star rating
Thieve Pricing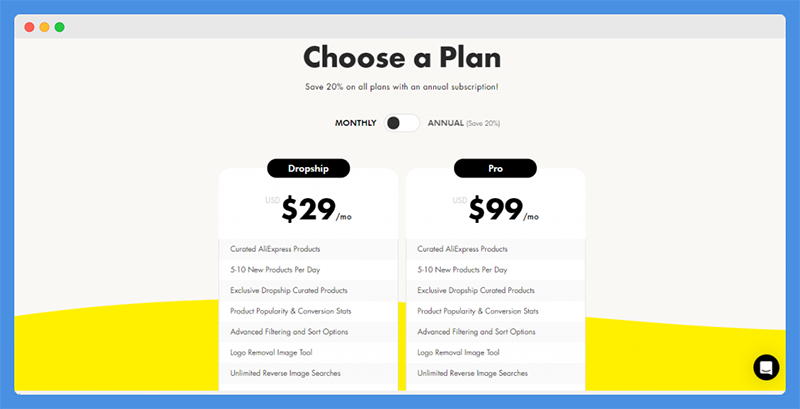 Thieve has two pricing plans.
Dropship – $29 per month
Pro -$99 per month
Pricing for Thieve may change. Please visit their pricing page for more information.
Advantages of Thieve
The tool has a simple and attractive user interface
Thieve offers an extensive product catalog
Experts handpick products and they review products for quality
Thieve provides email and live support
Disadvantages of Thieve
They do not offer a free plan
The pricing plan is on the high side
8. AliShark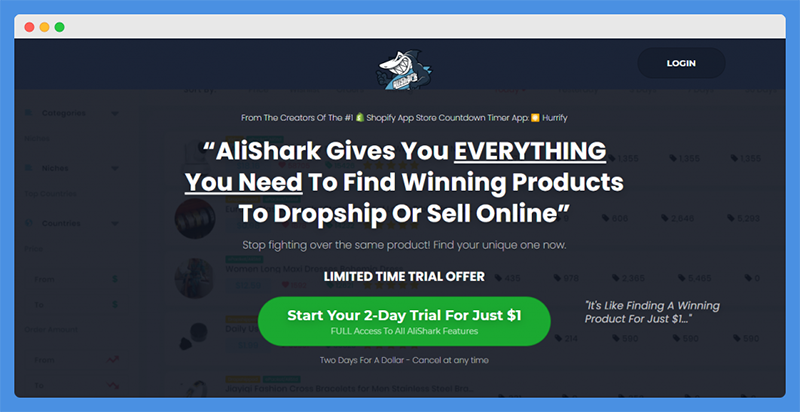 Let's do a quick AliShark review.
Alishark is another excellent product research tool.
This software provides the resources you need to find winning products to sell or dropship.
Marketers can access in-depth analytics about trending and profitable AliExpress products.
Features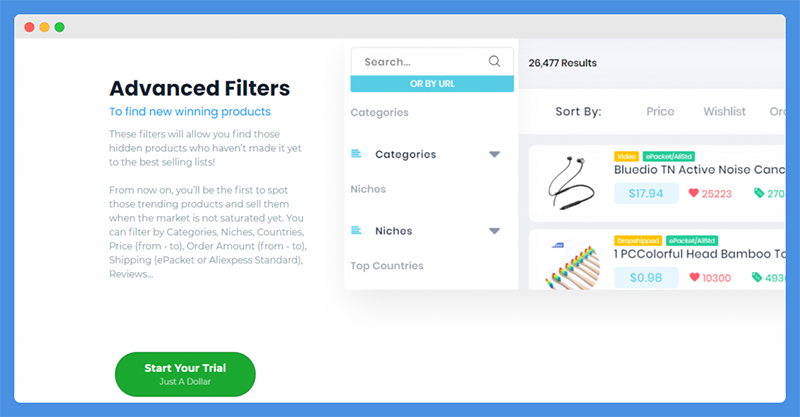 AliShark provides live product results by updating product order numbers every hour. Merchants can view the products that are selling and products that are rising or falling.
The tool provides reliable data to help sellers identify winning products with a single click. Dropshippers can quickly view product data such as
The total amount of orders
Product sales and sales history
Countries the product is sold in
Top dropshippers for that product
Product pricing and reviews
AliShark allows dropshipper to tap into competitor's data. Dropshippers can view the sites selling the same product, their pricing, ads, and more.
AliShark regularly provides an updated list of niches where merchants can find winning products. New and experienced dropshippers can use this tool for niche hunting and brainstorming.
AliShark Pricing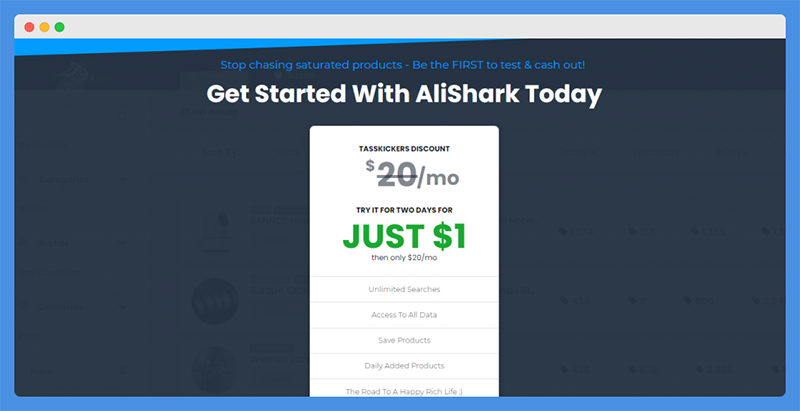 AliShark's pricing is $20 per month. Albeit, you can try out the software for two days for just $1.
Please note that pricing for AliShark may change. Please visit their website for more information.
Advantages of AliShark
The tool allows dropshippers to access in-depth product research data
AliShark provides live result on an hourly basis
You can save products to their library and view them later
Disadvantages of AliShark
Customer service and support options are limited
Limited knowledge base
They do not offer a free trial
9. Dropship Spy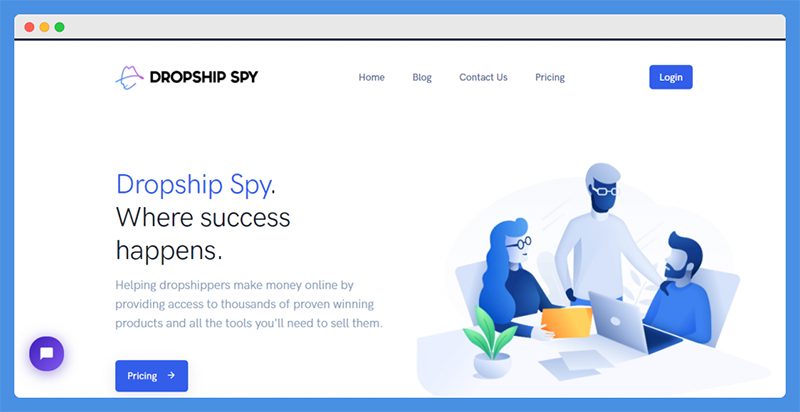 Dropship Spy is a great product research platform for dropshippers. The platform doesn't just help you find winning products; it provides tools to enable you to sell them. Dropship Spy provides business growth tools like
Facebook audience builder
Shopify integrations
Store Spy and more
You can use the Dropship for Spy for any eCommerce platform like Shopify, WooCommerce, AliExpress, eBay, etc. Amazon dropshippers can also benefit from the tool.
Unfortunately, Dropship Spy doesn't have a free plan like Ecomhunt.
Features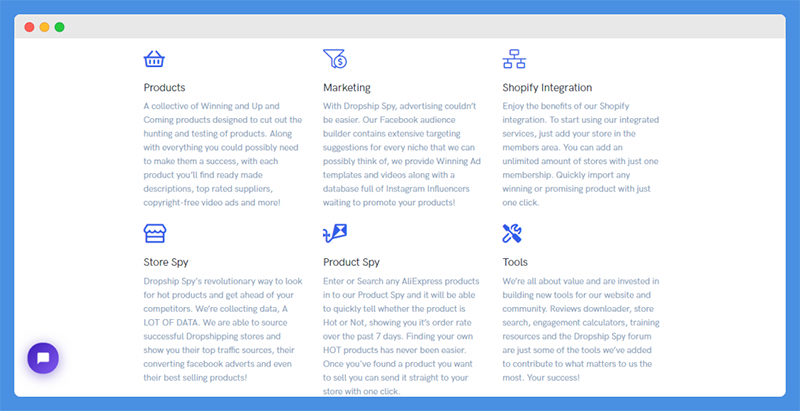 Dropship Spy is a product spy tool. It has a team of experts that are trained to provide sensitive data about products.
They use unique and advanced tools to scout for products across the internet and they track and research products until they discover products that fit under profitable or winning products.
For each product, you will find product details like
Top-rated suppliers
Ready-made descriptions
Copyright-free video ads and more
You can enter any AliExpress product into the Product Spy and you will find out if the product is hot or not.
The tool provides data about the product's order rate in the last seven days. When you find a winning product, you can import it to your store with a single click.
Dropship Spy Pricing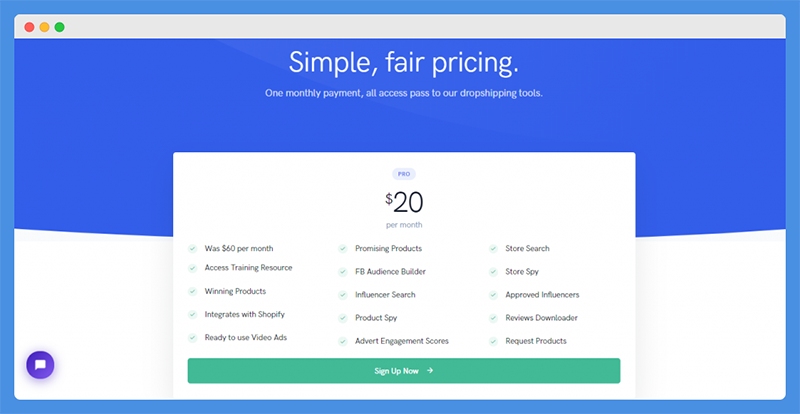 Dropship Spy has a simple pricing plan. The tool costs $20 per month.
Pricing for Dropship Spy may change. Please visit their pricing page for more information.
Advantages of Dropship Spy 
You can use Dropship Spy with any eCommerce software
The tool has an intuitive user interface
Accurate product research data
Products are curated by experts from multiple sources
They offer live chat support
Disadvantages of Dropship Spy 
Dropship Spy does not have a free plan or trial period
10. Intelligynce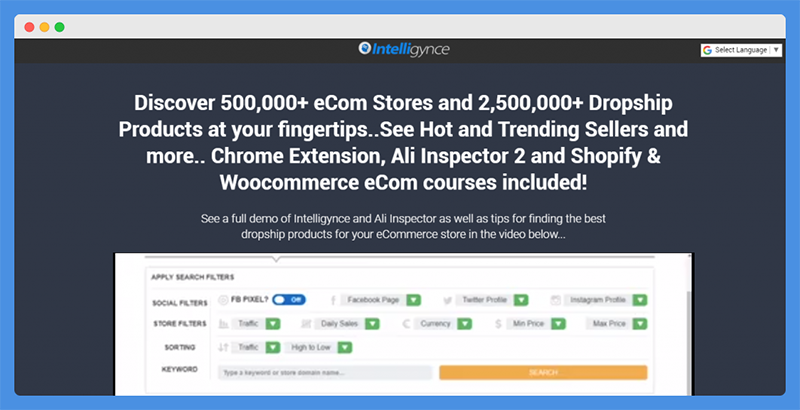 Finally, we have Intelligynce in the list of the best drop shipping product research services.
Intelligynce provides extensive eCommerce research analytics for merchants and dropshippers. The platform offers a bonus software, Ali Inspector, to help you research best-selling products on AliExpress.
The platform has over 2.5 million products sourced from Amazon, eBay, and AliExpress. Also, you can access product data from over 500,000 popular Shopify stores.
Features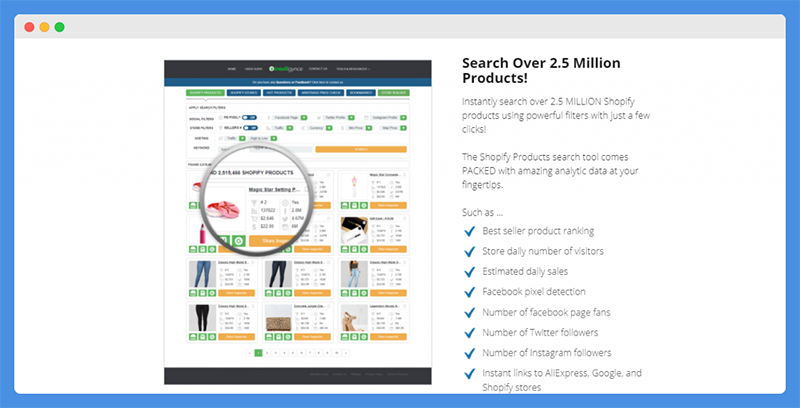 Intelligynce provides in-depth analytics and data at your fingertips. The tool provides weekly updates about hot products so that you can get your business moving quickly. You can source hundreds of trending products on eBay, AliExpress, and Amazon.
From the Shopify store data, you can gather insights such as
Daily number of store visitors
Estimated daily sales
Bestseller product ranking, and more
Intelligynce Pricing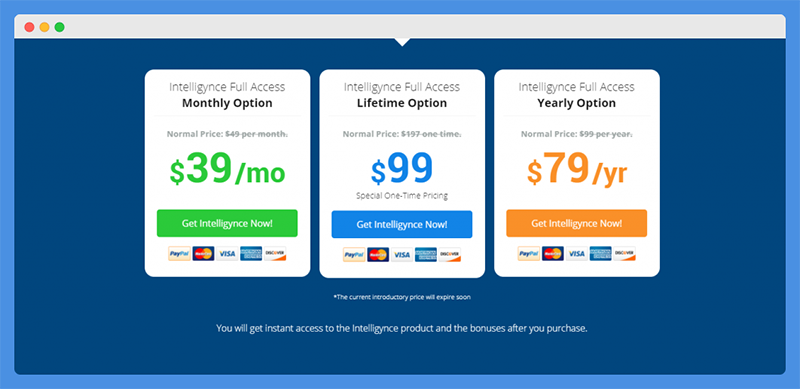 Intelligynce has three pricing plans. At the time of this writing, Intelligynce offered a discounted introductory price.
Monthly Option
Normal price – $49 per month
Discounted introductory price – $39 per month
Lifetime Option
Normal price – $ 197 (one-time fee)
Discounted introductory price – $99 (special one-time fee)
Yearly Option
Normal price – $99 per year
Discounted introductory price – $79 per year
Advantages of Intelligynce
Intelligynce has an intuitive user interface
You can get detailed product research data to make business decisions
The tool provides keyword and competitor analysis
Disadvantages of Intelligynce
The tool does not offer a free plan
Payment plans are expensive when compared to similar tools
Wrap Up: What's The Best Dropshipping Product Research Tool
There you have it. We have reviewed some of the best dropshipping product research tools for merchants.
While some of the research tools are powered by artificial intelligence, others are manually curated by experts. Either way, these tools provide in-depth data and analytics to help dropshippers find winning products to sell in their store.
The best dropshipping product research tool in our book is Niche Scraper.  The tool combines the power of artificial intelligence with a human touch to provide extensive product research data.
Armed with reliable data, you can select the best niche, find products, and start driving sales.
Whether you are a new or experienced dropshipper, you can select a plan that fits your budget and business goals. You can start with Niche Scraper's free plan to get a sneak peek of how the tool can help your business soar.