Are you looking for a dropshipping research tool that can help you find winning products for your business? Our list compares top research tool options.
Dropshipping is a great way to get started in the ecommerce world.
But it's not as simple as just buying and selling products in your store – there are many different factors that go into choosing the right product for your customers at the right price.
And if you're doing all this research yourself (or you hired someone), it can be pretty time-consuming or expensive!
Dropship Spy
Dropship Spy is a resourceful tool that offers a wide range of product research data. It mainly gathers its data from social media, AliExpress, and Shopify.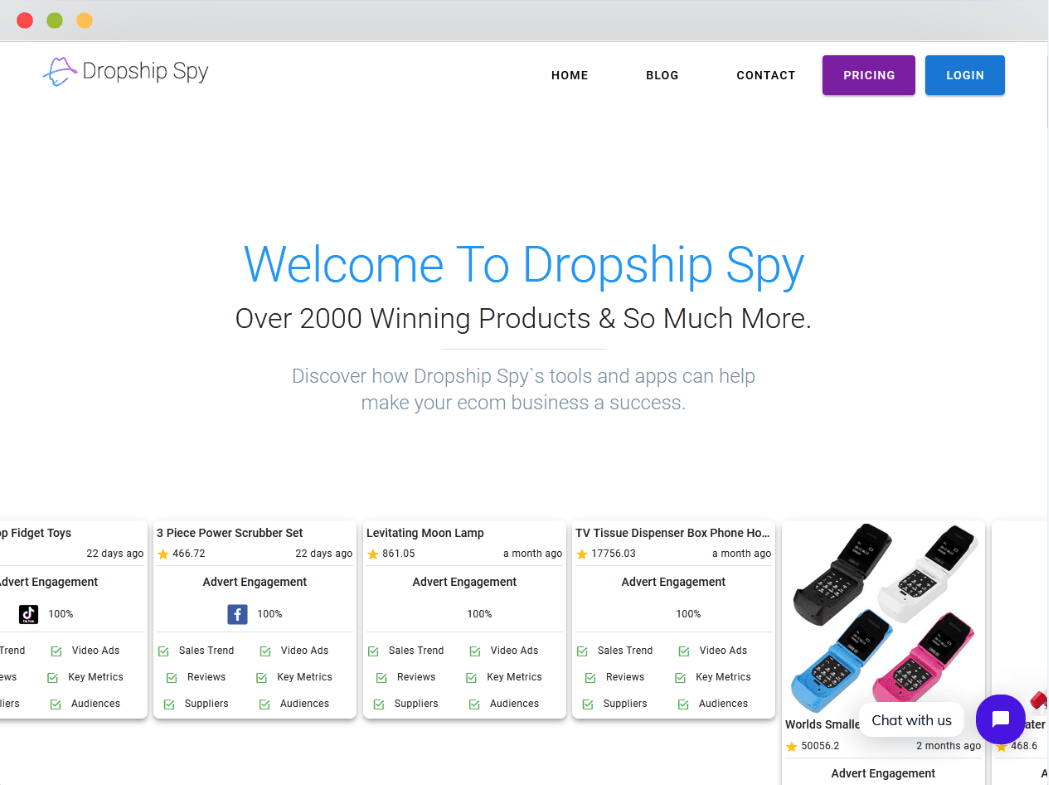 The data gathered by Dropship Spy can be classified into two main types of information; top products and product analytics.
The top products are basically the products that are hot in the market and are worth considering for your store. Those categorized as 'winning products' are current hot sellers while 'promising products' are budding trends.
Product analytics, on the other hand, give you more detailed insight into how consumers feel about a product or interact with it. Each product has its own unique set of analytics. They include details such as:
Engagement Ratings –these indicate how many people checked out a product online or expressed interest in it through likes or social media comments.
Product Reviews- Dropship Soy enables you to download a bunch of product reviews from e-commerce platforms like Walmart or Amazon
Sale Reports- this data shows you how well or how poorly a product is selling on various e-commerce platforms
Impressively, the data does not end there. Dropship Spy goes further to offer:
Free dropship video ads
Free ad copy
A profit calculator
Recommended supplier info for each product
Pricing:
A month's access will cost you $19 or $39 for the Pro Special and Pro packages respectively.
Pros: 
Integrates well with Shopify stores
Users have access to many helpful resources
Products are regularly updated
Free ad content
Con: 
The data may be overwhelming for beginner dropshippers
AliExpress Dropshipping Center
The second one is going to be a free one!
It's the AliExpress Dropshipping Center!
In case you don't know anything about the AliExpress Dropshipping Center or you don't know how to enable it on your AliExpress account, I suggest reading this article here.
The great thing about it is that it's free to use, and it gives you some basic product research options!
Ecomhunt
Ecomhunt promises its subscribers daily updates of new hot products that they can check out for their stores. The products are handpicked by experts and their popularity is backed by product analytics such as:
Engagement stats
Estimated profit margins
Facebook targeting; this is data that shows you what audience segment you could sell the product to
In addition to analytics, Ecomhunt offers examples of product ads and demonstrative videos. Unlike on Dropship Spy, ad content on Ecomhunt is not free-to-use because it is obtained from other online store owners.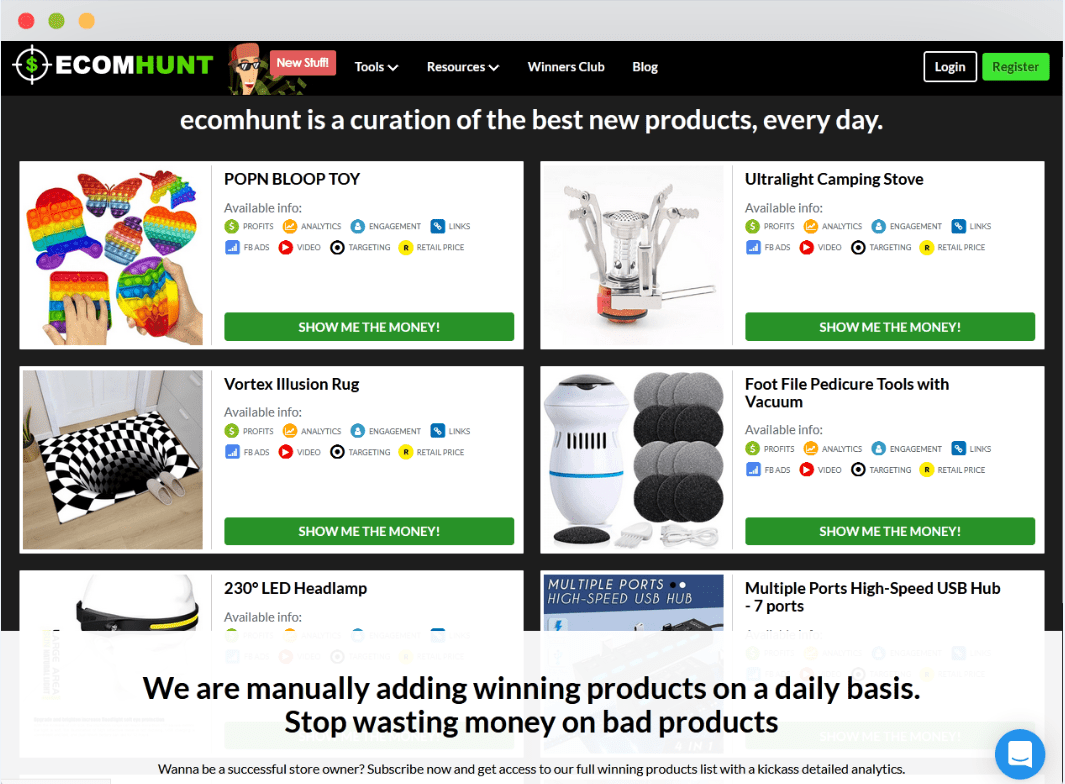 Pricing: 
The free plan offers limited features and delayed product updates but it would be a good idea if you would like to get a feel of how Ecomhunt works
The paid membership plan is priced at $29 and comes with full access
Pros: 
You can save/bookmark products (and their stats) that caught your eye if you would like to refer to them later
Ecomhunt offers training resources and free membership that you use to learn the ropes
There is a 30-day money-back guarantee if you are content with Ecomhunt services
The high-quality images provided are free-to-use for Ecomhunt subscribers
Cons: 
Its targeting is not tested and should only be used as an example
Niche Scraper
Niche Scraper offers product research data through two methods; the Scraper and expert handpicking.
The Niche Scraper is a web crawler that gathers data on product sales in online stores and engagements on social media. This data is then analyzed to find the winning products i.e., those with the highest sales and engagements.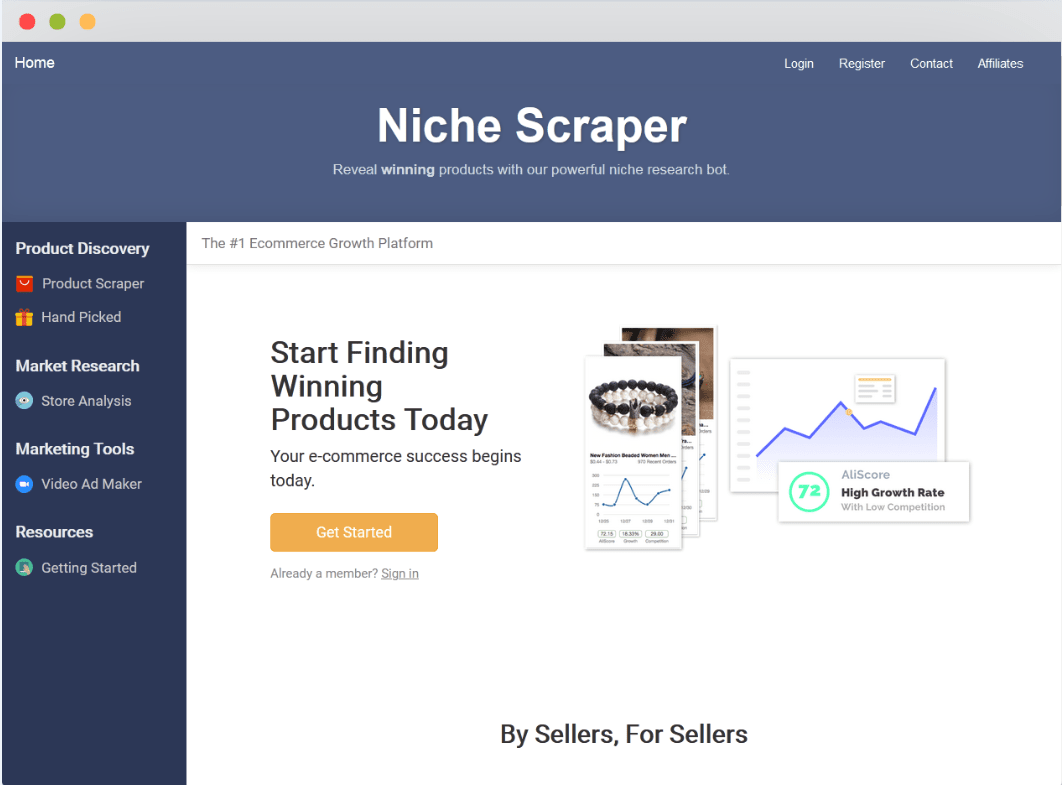 Expert handpicking is done by dropshipping experts. They use their understanding of trends and consumer habits to identify products that are likely to become hot sellers.
Hand-picking could give you an edge in the market because not all trends can be picked out by technology. Sometimes, consumer habits are driven by nuances and life events that are not necessarily captured online.
Niche Scraper also offers some additional notable features such as:
Ability to sort filter search results- when you look up a product, you can filter: its dates to see data from a certain period, product varieties by price, products by the number of orders, or in niches
Competing store analysis- care to know what competing Shopify stores are selling? You can filter your Niche Scraper filters to show which products are popular by store. The results will give you some competitor insights
Pricing: 
The free plan only gives you access to a limited number of scrapes/searches and limited resources
The PRO plan costs $49.95 and comes with full access to all digital content and tutorial resources
Pros: 
A blend of tech trends and handpicked products provides a good variety of helpful data
Niche Scraper is optimized for dropshipping and integrates well with Shopify
The ability to sort search results allows you to get data that is as specific as you need it to be
Cons: 
Niche Scraper does not offer supplier recommendations
Intelligynce
Intelligynce is a bundle of product research tools. It offers multiple ways to search for data and also allows you to search for different types of data. Let us explore that a bit more.
On search methods, Intelligynce allows you to search product keywords to get information about products you are interested in.
This information is mainly from AliExpress and Shopify. For AliExpress, you can access product data using the Ali Inspector tool.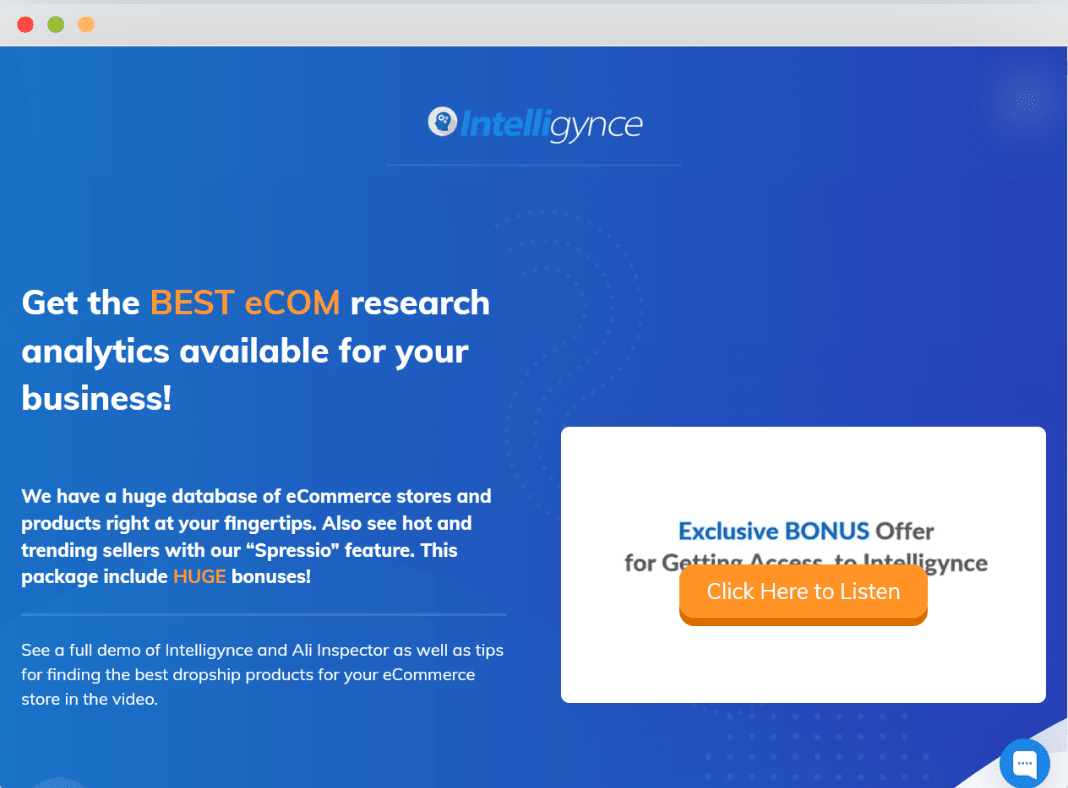 Now let us look at the types of product research data that Intelligynce provides. In addition to the commonplace, social media engagements, RRP's, and sale stats, Intelligynce gives you access to:
The products being sold by Shopify stores
The Shopify stores selling certain products
Details on various stores via the Store Inspector tool
It is worth mentioning that aside from its many tools, Intelligynce has great filters that help you limit the search results to only the data you need.
Pricing: 
The monthly subscription costs $39
The lifetime costs $99 as a one-off payment or a 4-installment fee of $29
Pros: 
Intelligynce provides multiple tools in one
The research stats on products and Shopify stores are quite detailed
It offers analysis on a very wide variety of products(over 2.5 million)
Cons: 
The tools and vast data offered by Intelligynce can be helpful but they can also be overwhelming.
Thieve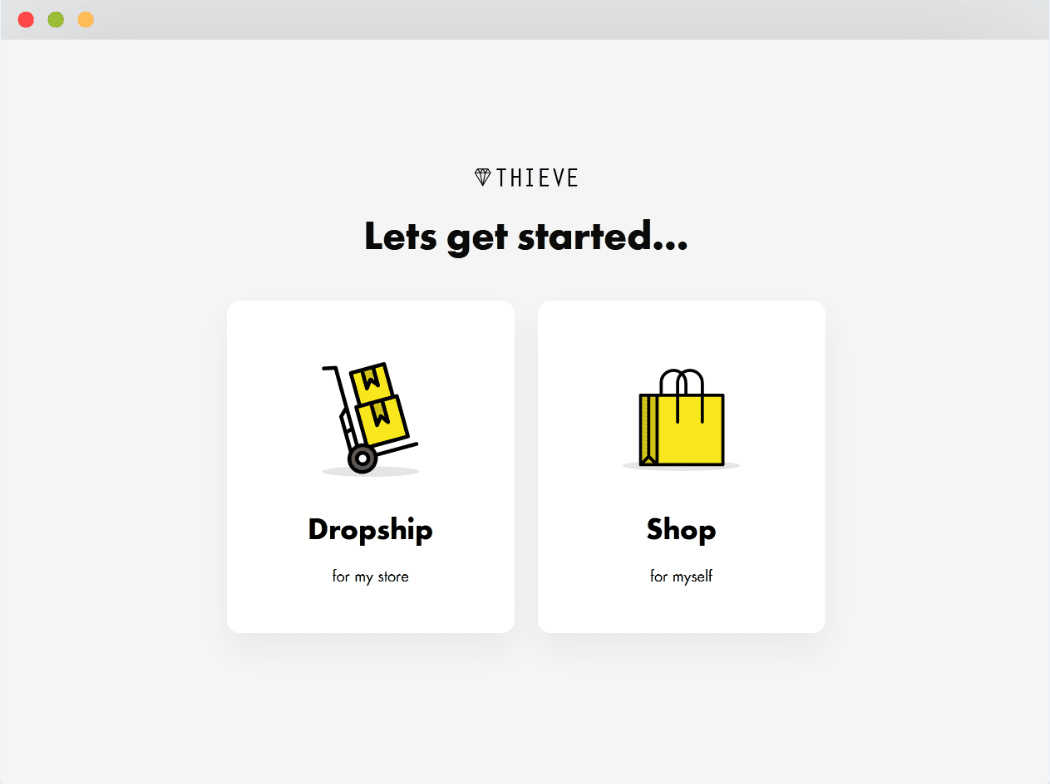 If you are keen on dropshipping via AliExpress, this would be a good product research tool to consider. Contrary to its intriguing name, it is 100% legal and fully dedicated to providing research on products you can buy on AliExpress.
The curated list of trending products on Thieve is handpicked by dropshipping experts, bloggers, and other e-commerce pundits. Aside from the product recommendations, this tool also offers information on:
The types of ads that convert for different products
Recommended suppliers for specific products
Data on dropshipping competitors e.g your competitor stores, how much traffic they receive, what products they sell
Trending untapped niches based on Google searches
Pricing: 
The Dropship plan costs 15/month and offers access to curated product listings and free-to-use as content
The Pro plan costs $49/month and offers early access to hot seller products and premium images and video content
Pros: 
The product research data is well-curated and not overwhelming
The media content provided is high-quality and can be helpful for beginner dropshippers that may not have the resources or the skill to make video ads for dropshipping
AliExpress dropshipping supplier recommendations can make it much easier to navigate the site
Cons: 
This tool only focuses on dropshipping products offered on one platform
ShopInspect
ShopInspect likely gets its name because it gives you access to data about other online stores. More specifically, competitor Shopify stores. The platform refers to this feature as, ' uncover then dominate them'.
In a nutshell, the 'Uncover then dominate them' features allows you to identify your competitors, the trending products they sell, and how they market them. This will give you an idea of how to best approach the market.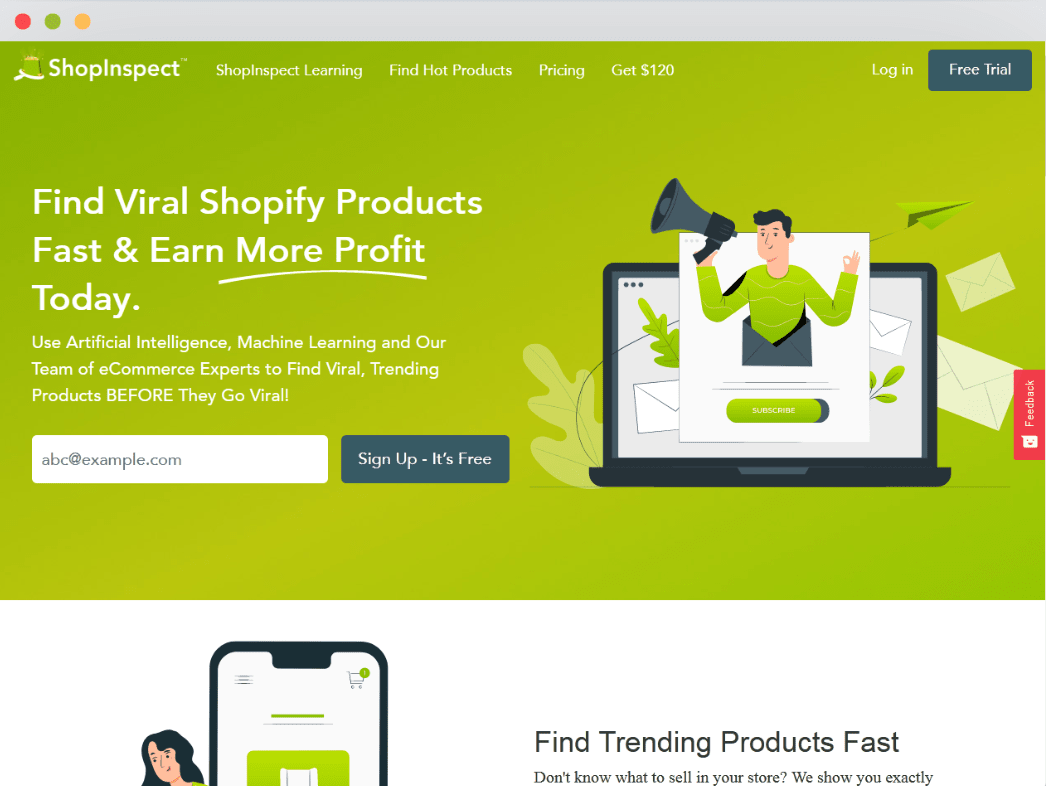 ShopInspect also has an algorithm that gathers data on the web to identify viral products. This would be helpful when you have identified a niche and are not sure what particular products you should be focusing on.
This research tool further enables you to:
Adinspect- you can search for different product ads to get marketing ideas and feedback data on whether those types of ads were successful
Predict sales- this will show you the sale stats of certain products in your target niche to help you decide if they are worth having in your store
Customize and find a target for product ads- ShopInspect offers free-to-use and premium videos that you can customize to make your ads. It also gives you data on which audiences you should target
Pricing:
The Standard plan costs $16 but excludes Adinspect and only allows limited searches
The Legendary Plan grants you full access to all features
Pros: 
The plans are reasonably priced
The video content provided and targeting info make creating marketing ads easier
Cons: 
It does not offer supplier recommendations
Sell The Trend
If you have been holding out for a product research tool that covers all the bases, Sell The Trend may be it. It does not just provide you with research data, it also provides you with tools to help you use the data.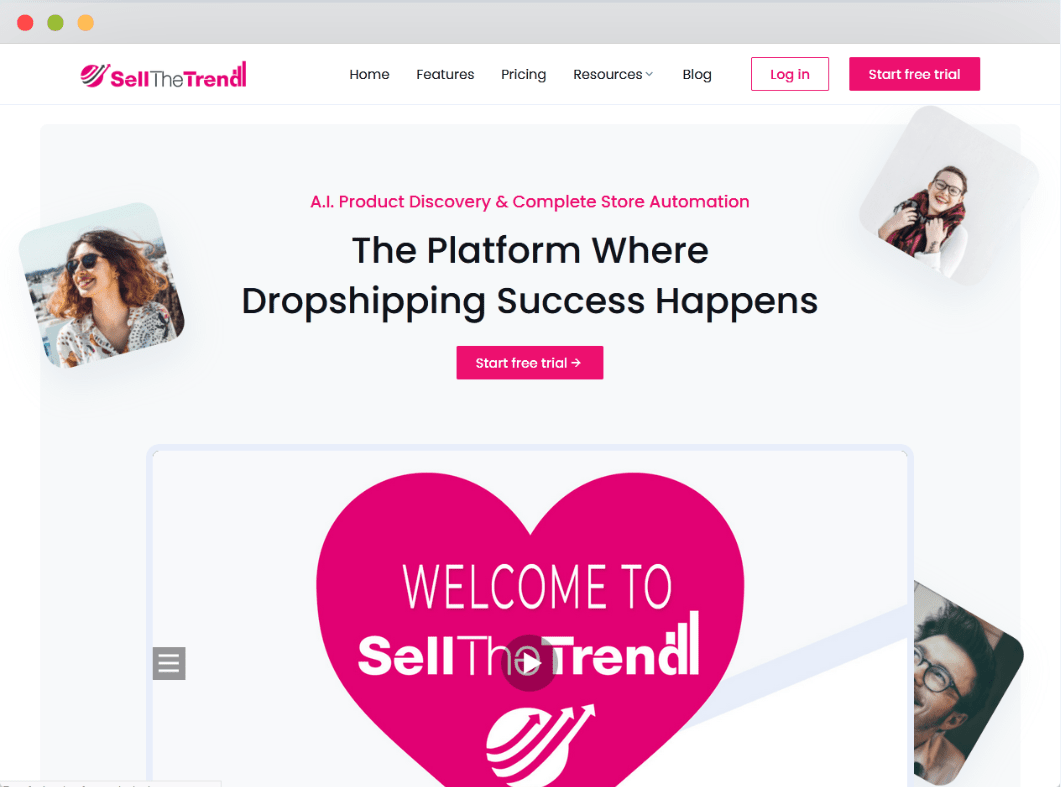 To paint a better picture, here is a glimpse at how Sell The Trend works.
Start by identifying your preferred niche
Search the Sell The Trend database for products in that niche and analyze their research data
You can also search products based on stores and see what your competitors are selling
Find suitable suppliers from the vendor list provided by Sell The Trend
Use the Video Creator tool to create ads and the Facebook Interest Targeting tool to figure out what demographic to target
Use the Sell The Trend integration to coordinate orders
Notice how at each stage, there is a tool to help you get the job done. Impressive, isn't it? Notably, this tool gathers and can sort product research data based on country. This is not a common provision.
Sell The Trend integrated with Amazon, WooCommerce, CJDropshipping, Shopify, and AliExpress.
Pricing: 
There is a free 7-day trial
The paid plan costs $39.97/ month all-inclusive
Pros: 
It provides helpful research and dropshipping tools at every stage
It offers product research data organized into over 83 niches and multiple countries
It is optimized for dropshipping
Wish Inspector
Wish Inspector is a 2 in 1 product research tool. Its main function is to help you find winning dropshipping products. However, as a bonus, it also helps you manage some dropshipping functions.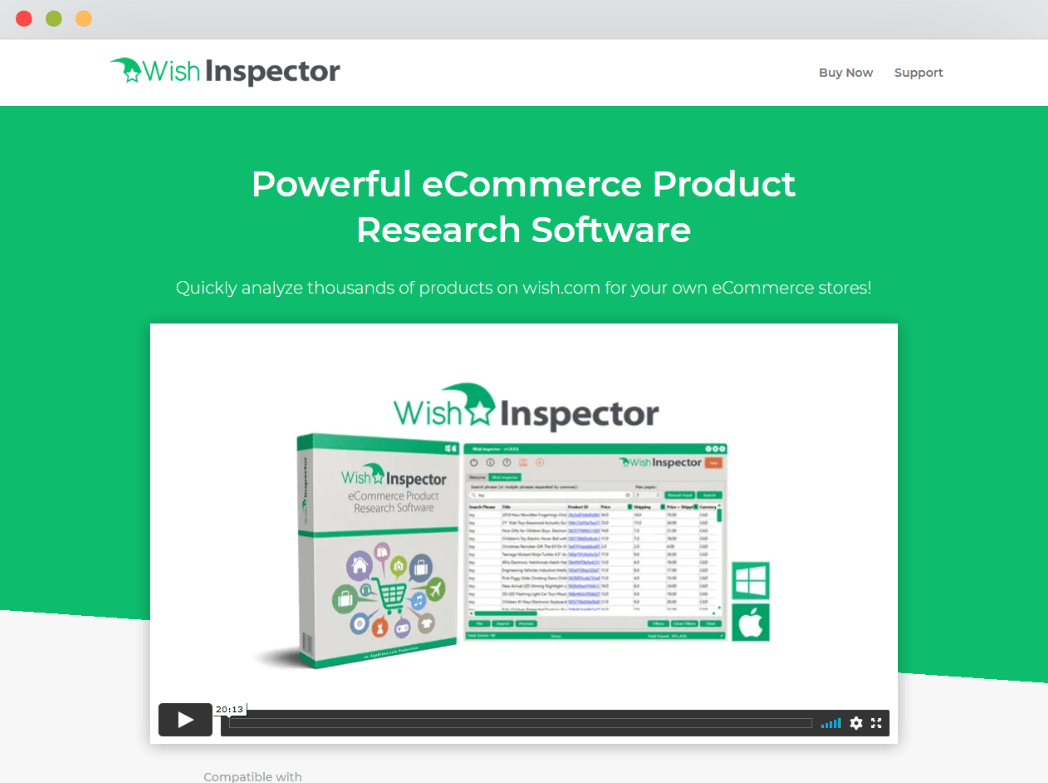 On research, you can look up any product using various keywords or purchase-related terms like the number of times it has been ordered.
The search results will present you with 26 different parameters of information. You can choose to look through all of them or try to filter them down to those that you find relevant.
In terms of dropshipping functions, you can use this tool to:
Download product images and descriptions
Import unlimited products to your Woocommerce or Shopify store in one click
Organize inventory: Wish Inventory generates SKUs for product variations which comes in handy when dropshipping multiple suppliers
Pricing: 
The plans cost $77 and $87(they are one-off payments)
Pros:
It offers multiple dropshipping tools in one
The filters are fast and effective at whittling down the extensive search results
Con: 
It is only compatible with Mac and PC
Pexda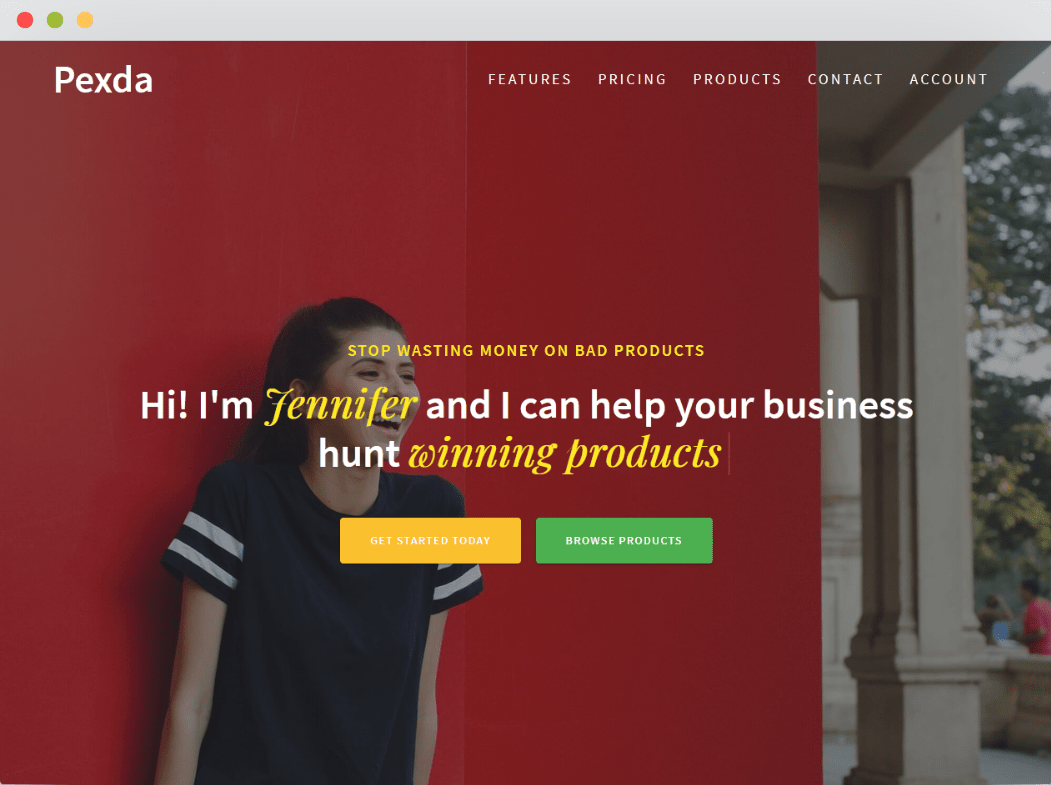 Pexda lists products based on niches but provides research data on individual products. The product lists are updated every day and comprise information such as:
The number of times a product has been ordered recently
Its social media engagements
In addition to product data, Pexda also offers examples of Facebook ads, free ad copy, and recommendations for your target market. For your benefit, the results are tied to your location if you provide the requisite details
Pricing: 
The Standard, Premium, and Ultimate plans cost $14.95, $24.95, and $99.95 per month respectively.
Pros: 
Geo-tagging search results provides dropshippers with more relevant information
The Standard plan has a great introductory price for dropshippers starting off on a budget.
Con: 
It does not offer vendor details
Alishark
AliExpress is a favorite go-to platform amongst dropshippers. The problem is, it can be a bit of a maze. There are endless suppliers to choose from and very many variations of the same product.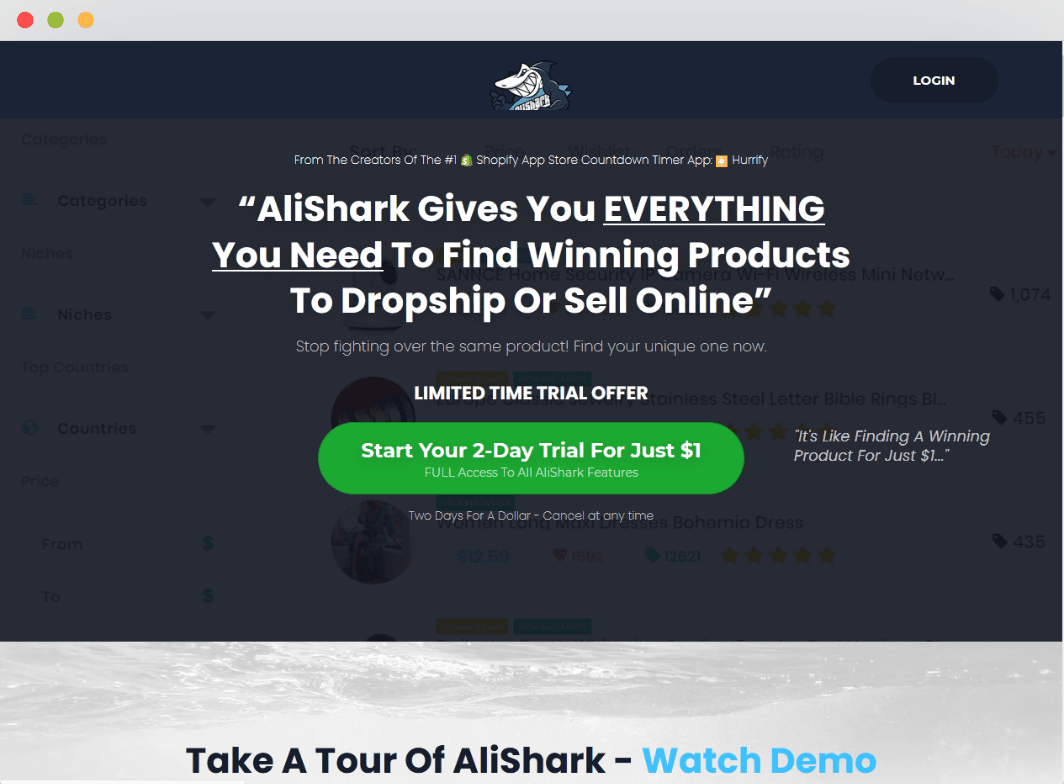 Alishark is a great product research tool that, like the AliExpress Dropshipping Center, is dedicated to AliExpress products.
It, nonetheless, stands out because it does not just give you data on AliExpress products but also makes the platform easy to navigate. It achieves this by:
Providing product information– before you get to the research data, Alishark informs you of its price, ratings/reviews, sale and order history, countries where it is a hot seller, and even its viable shipping options
Providing filters- the easiest way to zero in on your niche on a voluminous platform like AliExpress is by using filters. Alishark provides very many of them and you can use more than one at once
Showing product trends– curious about consumer habits, Alishark will show you product sale histories and top products on customer wishlists
It would be remiss not to mention that Alishark is one of very few product research tools that offer live stats. They are not relayed in real-time, but you can watch how they progress through the day.
Pricing: 
It has a full-access 2-day trial for $1
The paid plan costs $20/ month
Pros: 
It makes it easier to find dropshipping products on AliExpress
Its filters are well thought through and quite efficient
Con: 
It is only applicable for AliExpress products
FindNiche
Finding the right dropshipping products is tough but finding the right dropshipping niche is even harder. Should you try a limited or a general niche? How can you even tell if a niche is profitable?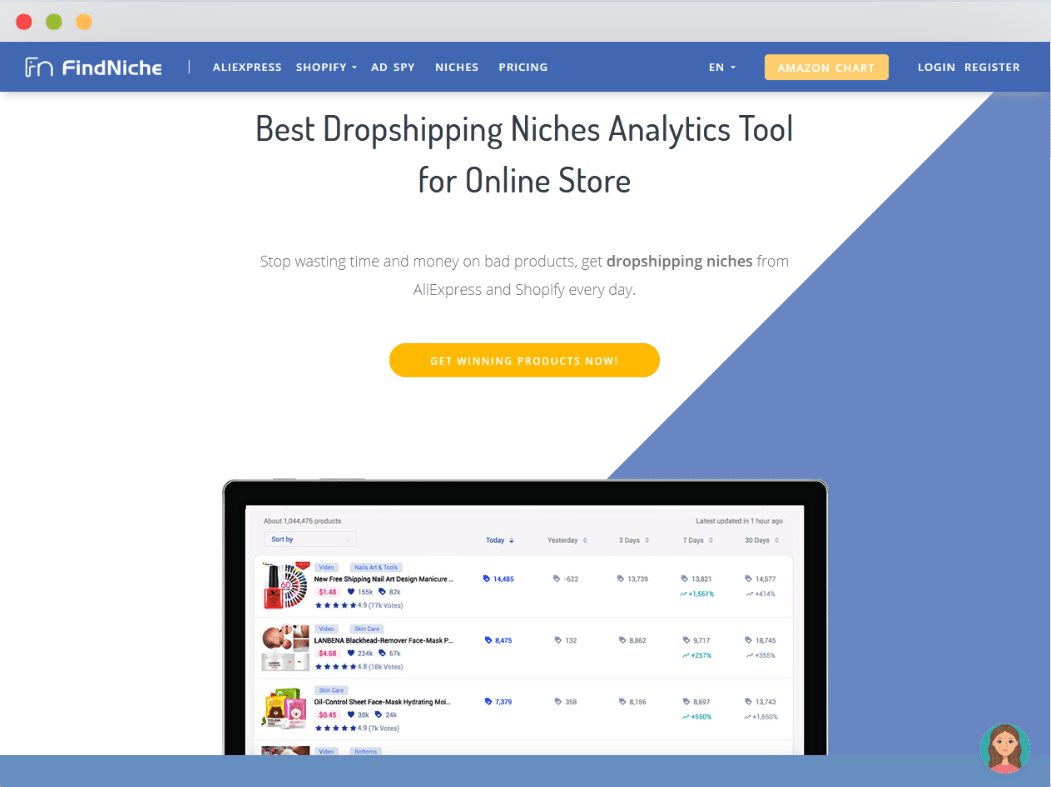 FindNiche seeks to answer all your product selection questions. However, unlike most other tools on this list, it takes a different approach by focusing on niches instead of just individual products.
Wondering how it works? Here is how:
Enter the product that you are considering in the FindNiche search bar
FindNiche will provide you with a list of product stats including sale history, price, number of orders, and so forth
It also provides you with similar stats for other products within the same niche
If you prefer, you can filter the search results such that you can only see results from Shopify or AliExpress stores.
FindNiche also provides insights on ads for different platforms and their potential target audiences.
Pricing: 
The Basic and Elite plans cost $9 and $59 respectively
Pros: 
It focuses on the big picture(niches) which are just as important as individual products
It allows users to focus on the platform of their choice between AliExpress and Shopify
Con: 
It is not possible to filter sales data to only show dropshipping sales
SaleSource
SaleSource makes a great effort towards providing solutions on product research. It goes further too and provides resources that you could use to implement the decisions you make based on the data.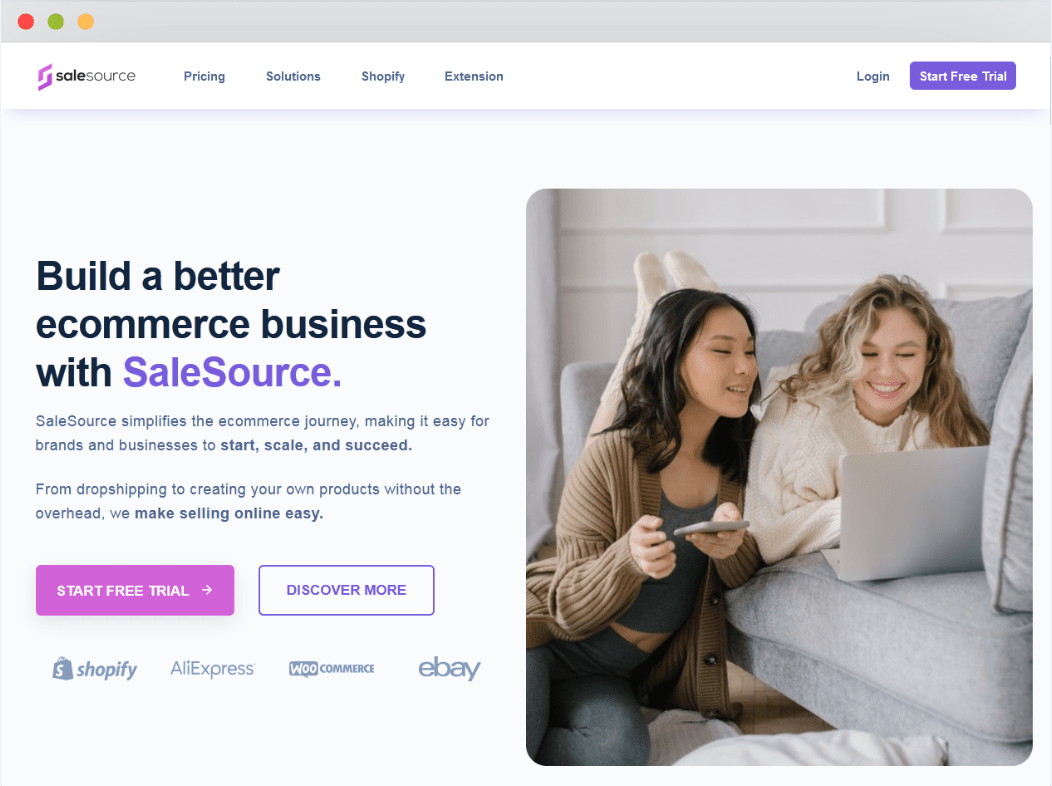 Let us illustrate that further. As a SaleSource subscriber, you can:
Get research data on a product I.e leading buyer countries, competitors selling the same product, estimated income from selling said product
Use the data to identify products that would be suitable for your market
Select a suitable supplier from the long list of options provided by SaleSource
Better still, SaleSource is specifically designed for e-commerce and is significantly optimized for dropshipping.
Pricing: 
The plan costs £13 and is available on a 7-day money-back guarantee trial period
Pros: 
It is compatible with eBay, AliExpress, WooCommerce, Shopify
It provides numerous helpful resources for dropshippers