3 Pcs Eucalyptus Rocking Chair Set Outdoor Patio Bistro Set with Wood Conversation Chairs & Accent Coffee Table
$80
1000 in stock
Description
This eucalyptus rocking chair set is perfect for the patio, backyard, porch, garden, or beach area. This rocking chair set includes two wooden rocking chairs and a coffee table, available for 2 people to relax!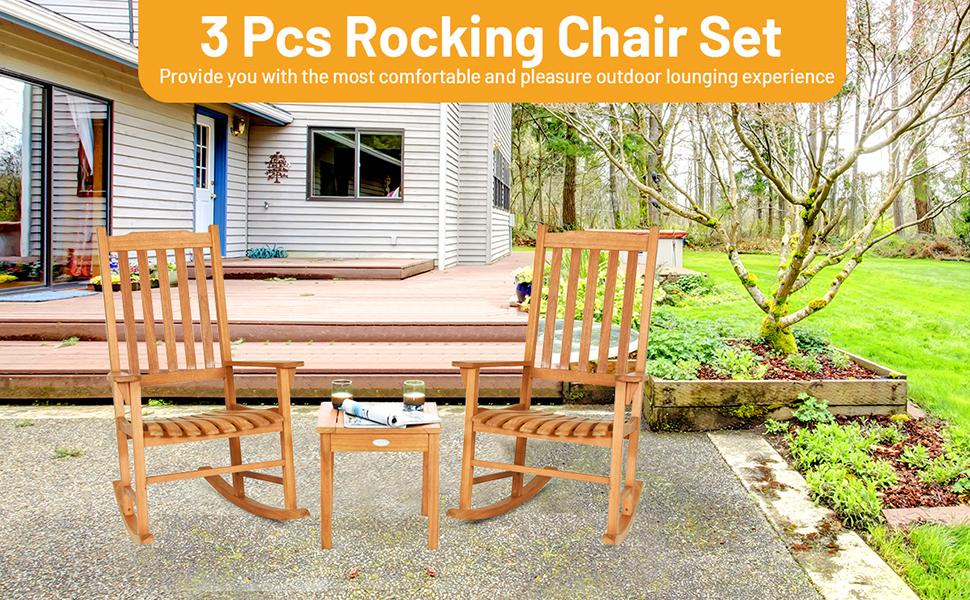 Features
Ergonomic Leisure Chair: According to the principle of posture comfort, the chair with a wide backrest and armrest fits the curved shape of the human spine. It is the best leisure chair for rest, relaxation, and rejuvenation. The swinging arc will ensure people's safety and achieve maximum relaxation at the same time.

Selected Eucalyptus Material: This rocking chair is made of selected eucalyptus wood, which has excellent stability and durability, and can be used outdoors for a long time. The connections between the structures are firmly fixed by screws to ensure that they will not easily swing or fall apart.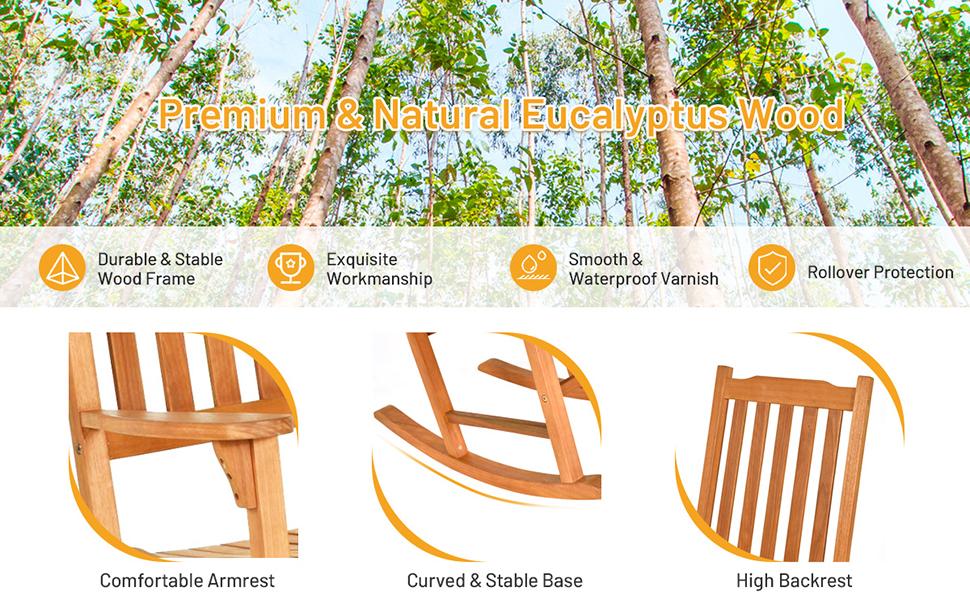 Classic Appearance: The original ecological wood materials are used to make you feel surrounded by nature and breathing in the garden. The wooden surface with clear natural texture adds dynamic and lightness to the design complements and improves the style of the whole home decoration.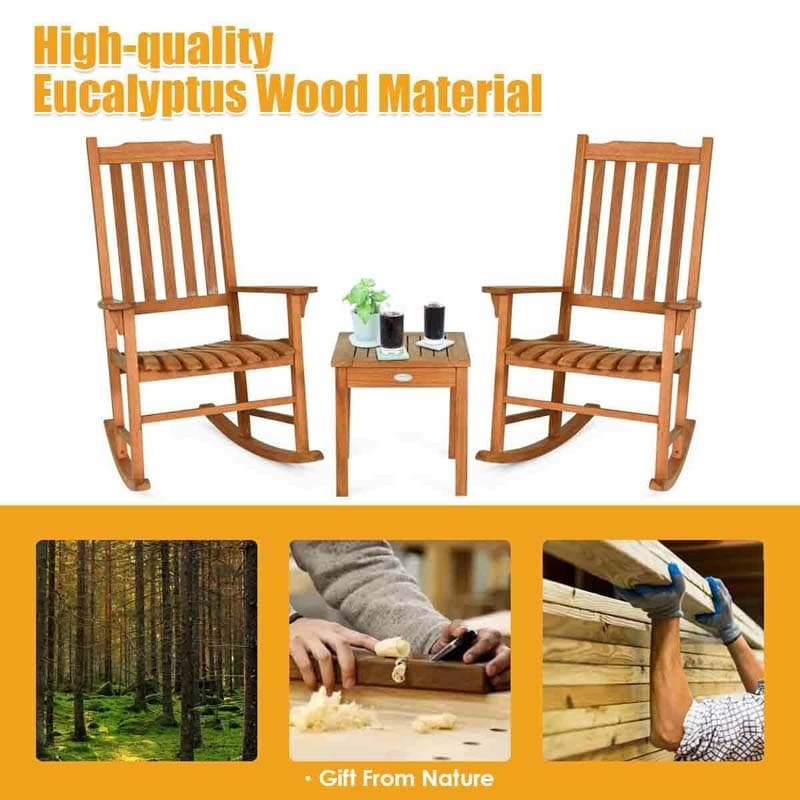 Three-piece Patio Furniture Cover: This rocking chair cover includes two wooden rocking chairs and a coffee table for two people to relax and chat in the garden. It is easy to change the furniture layout to get the best new look and ideal effect, very suitable for gardens, poolsides, courtyards or urban balconies.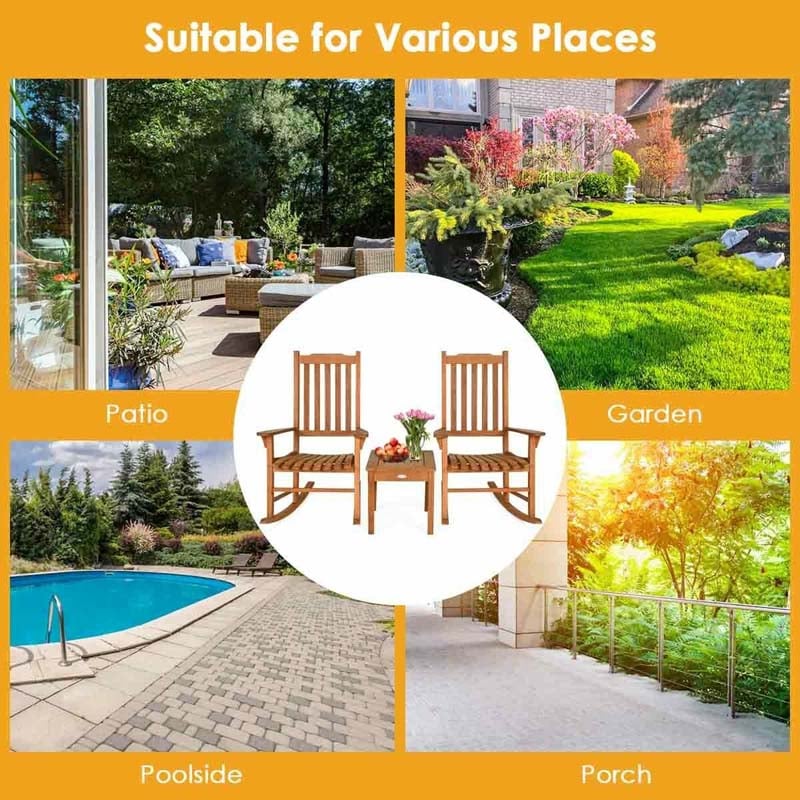 Quick Assembly & Easy Maintenance: The rocking chair set can be assembled easily in just a few steps. This rocking chair is covered with a fade-resistant linseed oil varnish, which is easy to clean and weather-resistant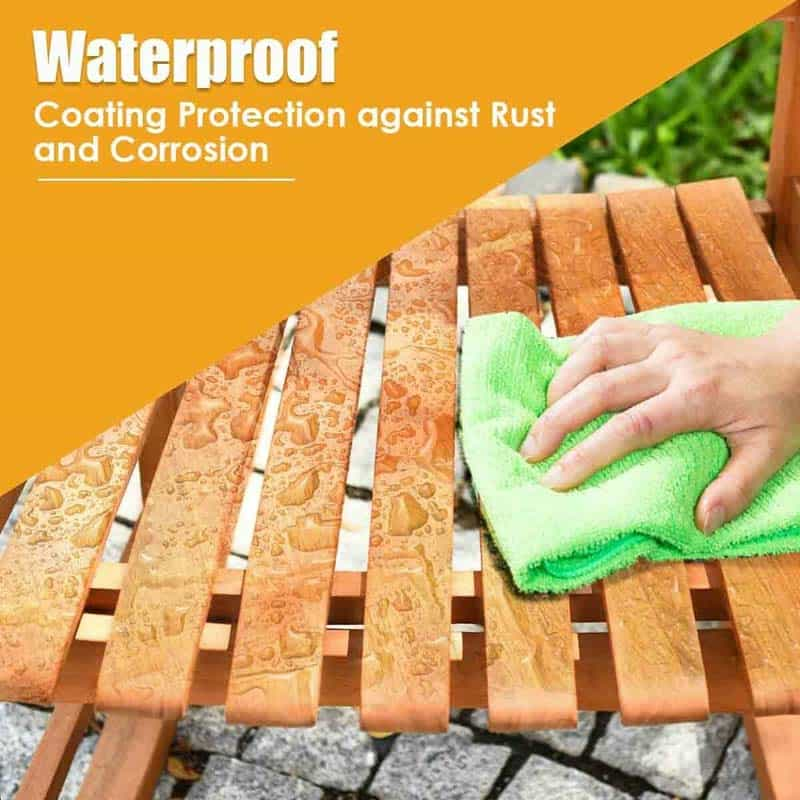 Specifications
Color: Natural
Material: Eucalyptus
Overall dimension of rocking chair: 33″ x 28.5″ x 45″ ( L x W x H )
Overall dimension of coffee table: 18″ x 18″ x 18″  ( L x W x H )
Weight capacity of rocking chair: 350 lbs
Weight capacity of coffee table: 220 lbs
Net weight of rocking chair: 23 lbs
Net weight of coffee table: 13.5 lbs
Backrest Dimensions: 30″ x 17″ ( L x W )
Seat dimensions: 20.5″ x  20.5″  ( L x W )
Height from the ground to the armrest: 26″
Height from the ground to the seat: 17″
Package Includes
2 x Rocking chairs
1 x Coffee table
1 x User manual